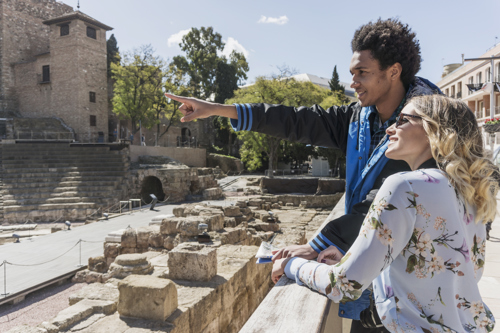 Tips for Immersing Yourself in the Local Culture of a New Country
There are lots of new experiences to be had when you move abroad, leaving you excited to start a new life as an international citizen. However, it can be tricky knowing the best way to immerse yourself in culture and to make the most of your time there.
Many activities you can do are quite simple and won't cost you much, such as enjoying the outdoors or visiting a museum when they are offering free entry.
Read our blog to discover ways to experience the local culture when you live or work abroad.
Enjoy the outdoors
A great way to get a feel for a country as an international citizen is to enjoy the outdoors. This could be as simple as going for a walk in a local park, riding a bicycle through villages, or reading in nature.
You can observe how locals spend their downtime and relax with friends and family. When you're outdoors in the summertime, take the opportunity to watch the sunset and enjoy the warm temperatures.
Also, partake in other activities favoured by the locals. Swim in the oceans if you live by the coast, hike in forests, or jog through popular running routes. From this, you can gain a deeper understanding of the area's culture.
Try and put your phone away where possible to take in each moment, and spend more time immersing yourself in the outdoors rather than cataloguing it on your smart device. If you enjoy being in the fresh air, make it a routine to go with friends – this can help you become settled in the neighbourhood.
Take public transport
Hopping on public transport shows you how the locals travel around their city. This is usually a cheaper way of getting around than using taxis, and can often be quicker.
You can download the train schedule onto your phone before you depart, which will make it easier to avoid getting lost during your journey. Make sure you keep your belongings safely with you at all times and be careful of your surroundings.
There are lots of cities that favour cycling, which is a great method of seeing the city during the day time. You could take a tour with a local guide or rent a bike for a day, and with the latter you get the freedom to choose where you want to visit.
If you're settling into your new life abroad, you might need some tips from our private medical insurance brokers on How to Deal With Loneliness When Living Abroad.
Explore historical sites
Taking the time to go to historical sites in your new area can give you a real sense of the beauty and culture of an older society. It provides insight into the lives of people from the past, allowing you to imagine what their world looked like.
Visit museums to build on your knowledge of the area. At limited times, exhibitions are often a popular tourism draw at museums, so be sure to check these out if you have time. In some countries, museums and institutions offer free entry at specific times. This is great if you want to explore but don't want to be out-of-pocket.
A trip to an important historical monument or building is a chance to appreciate the architecture and design that this country is famous for. Let yourself feel the history, and celebrate the stories of this society's ancestors.
As well as going to popular destinations, make a point to visit hidden sites too. It can be more enjoyable to experience a space when it is not flocked with tourists.
Enjoy the food on offer
If you're looking to start a new life abroad, do some research on the internet to find good restaurants in your area.
When you arrive, take a look at farmers' markets in your area for cooking inspiration. You can then invite others round to cook them a wholesome meal using local delicacies. The many colours on offer at markets makes them enjoyable to wander around.
Ask for recommendations from friends about what the best foods are to try, and suggest meeting up to try it together. This way you can dine on lovely food and build strong personal connections for your new life overseas.
Street food is another way to enjoy local dishes. The food is usually cooked quickly, and the aromas will offer a welcoming atmosphere.
Then, once you feel more at home from your experiences, you can start really enjoying your time as an international citizen.