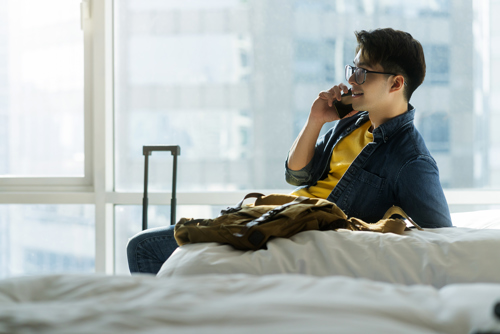 How To Deal With Loneliness When Living Abroad
Making the decision to live and work abroad is a life-changing one. There are lots of things to think about and to do, and it can be hard to find time for yourself.
One of the challenges with living in a new country is that you might not know anyone, which can, at times, make you feel lonely. It may take a while to feel at home, but there are things you can do to help you feel less isolated.
Read our blog to discover ways to handle loneliness following moving overseas.
Get in touch with other expats
Once the busyness of transporting your belongings has calmed down, then it is time to establish a community. Research expat groups online or find mutual connections to get to know. These people might also be nervous about finding friends, so don't be scared to reach out to people.
Another option is to socialise with people in your workplace. You will spend a lot of time with your colleagues, so it is a good idea to learn more about them in a relaxed social setting, such as hanging out after work.
Other expats can give you advice on how to settle into the area and provide you with tips on the best places to explore in the city. Continue to socialise with them over dinner and with fun activities in the neighbourhood. You will soon find yourself with a core group of friends.
Practice self-care
At the end of a long day, tiredness can set in. You might become used to a routine of travelling home, having dinner and then going to sleep for the next day.
However, it is good to practice self-care wherever you can. This could include beginning meditation in the evenings, doing your favourite skincare routine, or curling up with a good book. Whatever it is, this time to yourself gives you a chance to slow down and relax.
It's also recommended that you keep in touch with family and friends back home. Set up a weekly call with family to catch up on your lives and to give you company when an evening seems too long. This can lift your spirits and make you feel less lonely.
As the process of moving overseas to a new country is stressful, it is important to let yourself adjust to your new surroundings.
If you're moving overseas, you will need cover.
Click here
to learn more about our expat insurance brokers service.
Follow a regular routine
When you choose to start a life abroad, it is beneficial to create a routine and leave the house every day for fresh air and a change of environment.
Starting your morning with a visit to the gym ensures you stay active, while going to a local café allows you to interact with the locals and become familiar with people in your community.
You could also join clubs that you're interested in, whether that is a book club or an exercise class. Sharing interests with others is a great building block for friendships, and leads to developing personal connections.
If you're having a stressful day, attending a club or following your routine gives you something to look forward to. These activities can have a positive impact on your mental health.
Eat healthily
When you move to a new area, take the time to visit local markets and buy fresh produce from the area. Cook yourself a hearty meal full of fruit and veggies. Trying new recipes may also make cooking a new favourite hobby of yours, giving you an opportunity to invite friends over to experience your concoctions.
You could also do some research of restaurants nearby that offer healthy and nourishing food. Ask the chef for their recommendations and push yourself out your comfort zone by eating something you've never tried before.
Having a healthy and balanced diet is a great way to improve your mental health. Make sure you eat three full square meals a day and take a packed lunch into the office with you to save money on lunch out, as the price of this can start to build-up.
Along with eating healthily, ensure you drink enough water and sleep well. Put aside your technology before bedtime to give your brain a chance to decompress from social media and the internet. You will find yourself being more productive in the daytime as a result.
With all the challenges that come with moving overseas , looking after yourself is important. Become familiar with the area at your own pace and take steps to treat your expat loneliness. From this, you could acquire some great friends and experiences.