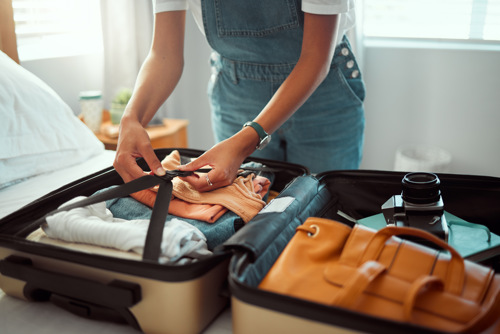 How to Prepare for an International Move
Once you've made the decision to move overseas, an important task on your to-do list will be packing. This can be very stressful, and is not a process you want to start last minute.
Staying organised, ensuring you have international health insurance in place, and buying furniture after you move are all things you can do to get ready for the transition.
Continue reading for some guidance on how to prepare for an international relocation.
Ensure you're organised
Moving your whole life abroad is a huge upheaval, and one that may take several months to arrange.  It is best to stay organised to make the process easier.
Start packing your belongings early, deciding what you want to keep, donate, or throw away. It's advisable to label everything to avoid losing items.
Be careful when loading delicate possessions into boxes to prevent breaking valuables. If you don't need fragile items when abroad, consider putting them into storage to remain protected.
Keep a checklist with you to keep on track of all your responsibilities, and make sure you don't leave any essential tasks until the last minute.
Think about international private medical insurance
It's important to consider purchasing international health insurance before you move abroad.  In some countries, it may be a requirement before you obtain a visa.
Having international private medical insurance in place can protect your health when living, working, or studying abroad. It can cover mental wellbeing, cancer treatment, and maternity care to name just a few benefits.
Do some detailed research about what sort of cover would be right for you. You might need insurance for your family if they are coming, or only need it for a short period of time if your stay abroad is not permanent.
Give yourself plenty of time to get an insurance policy, especially if you need it to meet your visa requirements. It can then give you peace of mind that you're able to receive medical treatment if you need it.
Have you thought about what career you will pursue abroad? Have a look at the Best Jobs for Expats in Europe
.
Sort through your clothing
When you start packing, take it as an opportunity to sort through your wardrobe. You should take the time to think about what you actually wear regularly, and if it will be practical for the country you're moving to.
For example, if you're moving to a cold country, swimwear and short sleeve t-shirts are not going to be the go-to item in your closet. Warmer clothing like jumpers, woolly hats and scarves will be more suitable for this climate.
You could opt to sell belongings online, or donate some to your local charity shop. It is important that you only pack the essentials for your new life abroad.
Be savvy with your packing
In the process of packing, ensure your belongings are protected. This could involve bubble-wrapping fragile items, putting anti-lock devices onto luggage, or installing a protective layer in your suitcase.
This means your possessions will be as secure as possible. Lining your luggage may take up much needed room, however. Rolling your clothes when you pack them can save you space, as well as stuffing socks into the pockets of clothing.
Other things you can do to maximise room include vacuum sealing items into bags. These can be easily purchased and reused. It's also a good idea to organise your clothing by type so that everything stays organised and tidy.
If you're flying to the destination, make sure you check the luggage allowance with the airline. It might be wise to have two suitcases if you're taking a lot of belongings with you.
Buy furniture when you arrive
It can be very expensive to ship furniture and other heavy possessions across the world, so consider purchasing them when you arrive. Any large items you want to keep could be put in storage or given to family.
Also check if the accommodation you're moving to is equipped with white goods, such as refrigerators. If not, you will be able to buy most of these in your destination and have them installed once you have arrived.
If you're only abroad for the short-term, you could opt to move into an already-furnished rental accommodation. This can save you money on purchasing new goods, and mean you're more comfortable in your new surroundings.
Another benefit of buying furniture after you move is that you can create a new interior that's appropriate for the space. This gives you the opportunity to make your new environment feel like a new a home. Try placing your favourite artwork on the walls, or add a textured rug to add a homely atmosphere.